Examining the 9 Crypto Startups from the Tachyon Accelerator
Plus, let's talks about Decentraland's Metaverse.
Hey Web 3 enthusiasts! I hope you all had a great weekend with a healthy mix of relaxation and excitement. This week we'll examine the nine startups from the Tachyon Accelerator and take a look at Decentraland, the crypto-game that has the whole industry thinking:
The Tachyon Accelerator Winter 2020 Cohort
ConsenSys Lab's Tachyon Accelerator recently completed its 2020 Winter cohort program. ConsenSys Lab's maintains an incredibly large portfolio of early-stage startups and the Tachyon program is the venture firm's attempt to become the Y Combinator for crypto and blockchain companies.
The 12-week accelerator was redesigned before it's relaunch last fall and now features a thematic focus: Open Finance. With decentralized financial (DeFi) applications exploding in popularity over the past year, the accelerator is betting that value will accrue towards the "startups building more open, interoperable, and programmable financial systems and services". So, let's take a deeper look at the nine startups that recently completed the Tachyon Accelerator and that ConsenSys believes will spearhead the DeFi movement.
Below is a quick definition of the Tachyon Accelerator participants as well as my short takeaways about each product/idea.
Tax season is rapidly approaching, so I feel like this is a well-timed product launch. For those who don't own crypto, the tax regulations are a nightmare with zero international or national consensus. For those who do own crypto, may the tax gods be in your favor. Cryptio's plug-in integration with other existing software services is a natural complement and will be needed by many institutions and crypto-native businesses.
Because large mining pools maintain hardware ASIC miners, they can calculate the percentage of block rewards that they'll earn until the miner depreciates. Therefore, miners often pre-sell some of their block rewards in order to get capital upfront. Hashedge's first tool HoneyLemon is pretty interesting and basically acts as a calculator and marketplace for mining contracts. If Bitcoin or another Proof of Work blockchain continues to grow in the future, then this market will also expand. Hashedge will offer similar products and services for staking, however, that's likely to be much more competitive, especially as Ethereum transitions towards Proof of Stake over the next two years.
I've previously interviewed and written about the Idle Team and their journey from being a hackathon project to becoming a fully-fledged DeFi startup. The team has grown even more and recently released the newest version of their product. The highlights of their product are: the Idle smart contract automates the DeFi lending process by rebalancing a pooled portfolio to obtain the best interest rate. The interest is then returned to users, and best of all, the rebalancing is automated. I'm excited to see how many protocols the team is able to integrate with moving forward.
The company's product isn't ready yet so we'll come back to them when Incento goes live.
Outlet provides a high yield savings account that is protected by smart contract insurance. Similar to Dharma, Outlet enables to anyone deposit funds which the app then loans out for interest. There is a lot of strong competition in this space and I have a feeling that "crypto alternative savings apps" will start to offer riskier asset allocation.
PieDao also hasn't officially launched its product offering publicly and appears to be beta testing with a select group of 500 individuals. However, it looks exciting so I'll be sure to cover this and test it out when it goes live.
SimpleID allows startups to extend user analytics and re-engagement capabilities to smart contracts and on-chain interactions. Essentially, Simple ID lets crypto companies interact with their users through in-app notifications in a private manner.
As someone who believes in the power of marketing AND who also loves the ethos of open and permissionless blockchain networks – sometimes it's hard to balance the line. Data and personal information are abused by Web 2 companies like Facebook and Google because it's effective. The market efficiencies demand that companies leverage all the information they can get their hands on. Abstracting the personal information away from the companies while providing analytics and information is an interesting way to solve this problem. 3Box provides a similar solution from the user angle as opposed to Simple ID's startup/enterprise angle. 
Perhaps the coolest name of the Tachyon III cohort goes to Trakx. Besides standard indices, Trakx plants to offer Inverse Trackers which enables investors to short the crypto market. Additionally, they'll provide thematic indices, such as Privacy Coins or Social dapps that will be based on a basket of tokens in those respective categories. I could see institutions and retail investors purchasing both of those indices rather than having to bet on individual companies in those sectors.
"We believe that the blockchain wallet will become a single sign-on for finance. Kind of like sign in with Google or Facebook, but with way more features." – Transak Website
Transak provides a user-friendly integration for any company that wants to accept fiat-crypto payments in a compliant manner. Typically, I believe that companies building on-ramps to services or markets is a good business model. The fiat to crypto gateways are mostly controlled by Coinbase, Binance, and large exchanges so it may be hard for Transak to gain meaningful traction. However, maybe there is a play for enterprise companies looking for a simple integration widget. Time will tell.
Overall, the Tachyon III cohort appears to have some strong companies and my admirations go out to all of the entrepreneurs. It's hard to build something, especially in crypto and I'm excited to see them succeed.
---
Decentraland publicly launches the Metaverse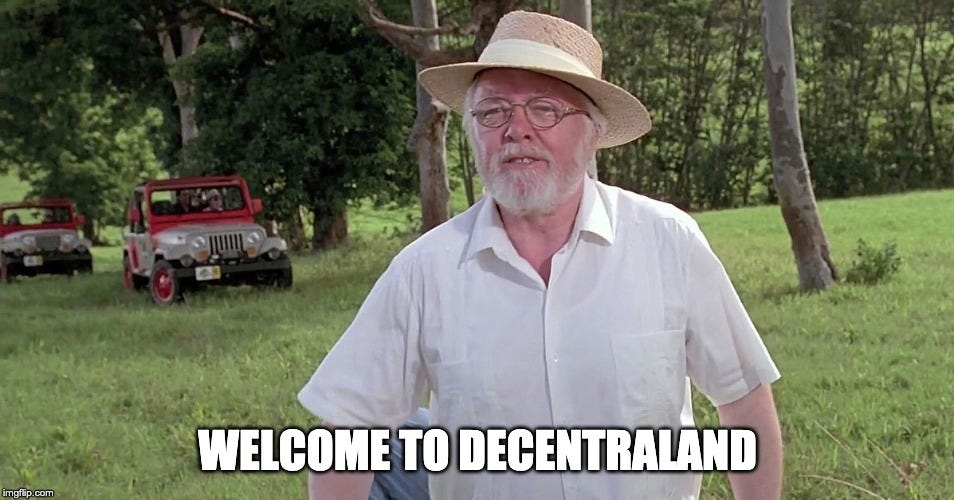 *Cue Jurassic Park sound effects*
Decentraland the virtual-world game built on Ethereum recently opened its Metaverse, which is gamer speak for, the game is now live. Decentraland which originally raised $26 million during it's 2017 initial coin offering one of the most widely anticipated projects in the blockchain industry. The game offers parcels of LAND or digital plots that are represented as Ethereum tokens. LAND tokens are empty lots that players purchase to then build on top of in the Metaverse. Gamers build features like houses and trees using pre-built modules or for the tech-savvy players– code their own applications.
100K in prizes: In an effort to promote Decentraland, the firm is giving away $100,000 worth of prizes ranging from MANA tokens – the native token for the Metaverse – to non-fungible tokens in the form of Cryptokitties, in-game wearables, and more! This is probably one of the most anticipated launches of a crypto-project within the past year. Decentraland LAND plots witnessed $350K in trading volume over the past week on OpenSea with an average sale price of $1,600. Some companies are even offering virtual mortgages with crazy interest rates for players.
Now, you're probably asking: "What do people do in Decentraland?"
Mostly, speculate.
There are thousands of individuals speculating on MANA or LAND tokens expecting the in-game assets to rise in value as Decentraland increases in popularity. Other than now sharing a meme with Jurassic Park, Decentraland also comes with Jurassic Park's 1993 graphics. Although in fairness, I imagine the graphics of Decentraland will get better over time and there's no reason the graphics really need to improve drastically. After all, Minecraft already proved that gameplay is far more important than graphics.
Otherwise, there's really not much to actually do in the Metaverse, besides walking around and encounter other people who are also…walking around. So the ultimate question becomes, what will people do in Decentraland? The game creators have started a Treasure Hunt of sorts and the potential to earn money completing tasks, building cities, or creating value seems like a good starting place in order to acquire more players.
The most revolutionary ideas tend to be the strangest or unimaginable. I think that Decentraland is a winning concept and that virtual digital worlds will eventually succeed. Is Decentraland too early? Maybe. Will they be able to achieve virality and expand outside of crypto natives? That would be pretty cool, but either way, it's worth checking out!
Welcome to Web 3.0,
Mason 
---
Further Down the Rabbit Hole
App of the Week: Dharma's mobile version is absolutely phenomenal.
ELI5: Crypto's Killer Value Prop by Kevin Sekniqi.
Let's Talk Money: Autopilot from Republic lets anyone invest in startups.
Watch of the Week: An old video, but a great video by Cathie Wood on disruptive innovation.
I'm Feeling Lucky: Fitting into the Zeitgeist.
---
Advancing Web 3.0 is a weekly newsletter about cryptocurrencies, decentralized finance (DeFi), and technologies that are shaping the next era of the Internet. Welcome to the bleeding edge. Welcome to Web 3.
---
About the Author: I'm Mason Nystrom, a writer and aspiring angel investor. Previously I worked for ConsenSys as a marketer focused on marketing strategy for ConsenSys and its portfolio companies. Prior to joining ConsenSys, I worked as a Business Analyst at Gatecoin, the first cryptocurrency exchange to list ether, Ethereum's native cryptocurrency.
---
The views, information, and opinions expressed are solely those by the author and are meant for informational purposes only and are not intended to serve as a recommendation or investment advice to buy or sell any securities, cryptoassets, or other financial products.